Writing
Analysis: The Weeknd's Starboy
Coming off of the enormous success of his 2015 sophomore album Beauty Behind the Madness, The Weeknd quickly went to work again on his 2016 follow-up record, Starboy. Inspired by another Bowie character, Starman, The Weeknd killed his old persona (literally in the "Starboy" music video when he suffocates himself with a plastic bag) by cutting off his signature dreadlocks, creating a brand new character: the boastful Starboy.
The Weeknd told Zane Lowe in their Beats 1 interview about Starboy's personality, "He's a more braggadocios character that we all have inside of us."
Starboy brags about his expensive cars and sings about girlfriends snorting cocaine off of his ebony wood table. There's always the negative that comes with fame, though, and for a brief moment it seems as if he might regret his decision to become a mega pop star when he sings, "Look what you've done."
The 18-song album tells a story about the trappings of wealth and fame conveying the excess and party lifestyle that comes along with it. On Track 14, "Ordinary Life," Starboy seems to come to terms with his inevitable tragic ending when The Weeknd sings, "Like I'm James Dean, I'ma die when I'm young."
It won't be the last we hear from The Weeknd's alter ego. He revealed to Zane Lowe that he wants to make a comic book strip out of the character and pitch it to Marvel or DC Comics.
Originally posted on Songfacts.
"Starboy"
When The Weeknd sings, "Look what you've done," there are a few ways to look at it. Here are three:

1) Seeing as the first line of the song addresses the listener ("I'm tryna put you in the worst mood"), the "you" in "look what you've done" could refer to the listener again and music fans in general: the people who are consuming the music. They are the ones making him a star by buying his albums and seeing his shows, complicit in creating this cocky Starboy character.

2) The Weeknd could be talking about the music industry, referencing the "machine" that produces these larger-than-life pop stars: the record executives, album producers, songwriters, publicists and image consultants. They are actually forming this Starboy character.

3) What if the "you" is actually The Weeknd himself? What if he's talking to himself in that line? The Weeknd made a conscious decision to go from a mysterious underground artist in Toronto to a global sensation when he signed with Republic Records. After releasing his Trilogy mixtapes in 2012 and then his official major label debut Kiss Land in 2013, he still hadn't reached the level of success he was desperately craving, so he started making artistic choices that would get him there – duetting with Ariana Grande on "Love Me Harder," contributing two songs to the 50 Shades of Grey soundtrack, and releasing "Can't Feel My Face" as the second single from his album Beauty Behind the Madness – all the while facing criticism from longtime fans for altering his sound from edgy and dark R&B to more radio-friendly pop. Maybe he regrets the change? Maybe he hates that he had to play the game in order to reach the level of success he wanted? Or maybe he doesn't really care.

The Weeknd has often written in his lyrics about his own drug use, 

and in the pre-chorus of  

"Starboy," there's speculation that he's describing his model girlfriend Bella Hadid snorting cocaine off of his newly-bought ebony wood table (or possibly a piano?). Does he love her because of her rumoured habit or does he love her despite it? Either way, it showcases the futile relationships he has with women. It's not the most endearing way to represent them (and specifically Hadid), so 

maybe it's another critique of the trivial life he leads as a pop star:

20 racks a table cut from ebony
Cut that ivory into skinny pieces
Then she clean it with her face but I love my baby
The line, "House so empty, need a centerpiece" is a boast, but it also reveals a downside of fame, as you can buy a big, fancy house but you'll rarely be there to enjoy it. For The Weeknd, this could take on a more profound meaning hearkening back to him regretting becoming a pop star. It's possible he feels so lonely that he's trying to fill that void with all of these meaningless objects, but it's not working. He still feels vacant inside.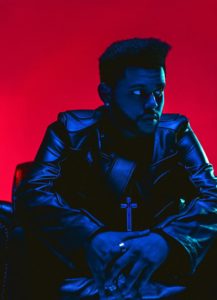 When the Starboy character was formed, The Weeknd made a drastic change in his appearance by cutting off his signature dreadlocks. He doesn't hear people trash-talking him because no matter the popular trends, he can follow any path and will always have a style that's his own:

You talking 'bout me, I don't see the shade
Switch up my style, I take any lane
When The Weeknd sings, "Coming for the king… I come alive in the fall time," he's alluding to his 2014 song, "King of the Fall."

He also could be referencing the critically-acclaimed television show The Wire. With The Weeknd continually talking about being in danger, it's hard not to think of Omar Little proclaiming in Episode 8 of Season 1, "You come at the king, you best not miss." The Weeknd is echoing a similar sentiment. You can try to go to war with him, but he thrives best under siege, so you won't even get near the front gates.
What's a Weeknd music video if he doesn't kill himself in it? One of the most intriguing aspects about The Weeknd as an artist is the ongoing story throughout his videos. The plotline has been greatly analyzed and theorized, but a common theme is The Weeknd somehow getting harmed in them. He gets in a car accident in "The Hills," he's lit on fire in "Can't Feel My Face," he buries himself alive in the desert in "Tell Your Friends," and he shoots himself in the head at the end of "False Alarm."

"Starboy" is no different. The video begins with the Beauty Behind the Madness Weeknd tied to a chair inside his house. A mysterious black-masked man puts a plastic bag over his head and suffocates him to death. The scene is so graphic that the television station MUCH in Canada didn't play that part. The next shot zooms in on a diamond-cross hanging from the black-masked man's neck as he fixes his probably super-expensive leather jacket and gloves. Mystery man takes off his disguise and shockingly reveals that it's actually The Weeknd underneath it, except he's cut off his distinct dreadlocks. He sings, "I'm tryna put you in the worst mood, ah" and the Starboy Weeknd is born.

The new Weeknd sings and dances around his house admiring the walls covered in Beauty Behind the Madness memorabilia. He sees a glowing pink cross at the end of the hallway and becomes hypnotized by it. He then has his own kind of George Michael "Freedom! '90" moment when he breaks all the possessions from the Beauty Behind the Madness-era with the pink cross.

So, basically, The Weeknd kills off his old self. He's reborn as the Starboy character and demolishes everything that represents his celebrity (well, except for his precious cars). One premise about the storyline that runs through his videos is that The Weeknd essentially sells his soul to the devil in order to become a pop star, which is possibly mirroring how he feels about his real-life relationship with the music industry. So the music video for "Starboy" supports the idea that The Weeknd is actually critically looking at his success and fame in the song by shattering everything that symbolizes it.
This song was partly the result of a happy accident. When The Weeknd was working with Daft Punk on the track "I Feel It Coming," he was getting direction from the producers through his headphones. "I was freestyling over it and trying to find a vibe with it," he told Zane Lowe in a Beats 1 interview. "While I'm recording the record, through the talkback I can hear some sort of feedback, some sort of drum loop. Every time Thomas [Bangalter] is like, 'Okay, next take.' So, I'm like, 'What the f–k is that? What is that sound?'

So, I walk in and it's Guy-Man [Guy-Manuel de Homem-Christo] on his phone or on his laptop or something and it's the drums of 'Starboy.' I'm like: 'What is that?' He's like: 'I don't know, it's just something on my phone.' I'm like: 'Put that s–t on the f–king speakers. Let me hear that.' And it's just this crazy, monstrous loop.

So, I put 'I Feel It Coming' to the side and I'm like: 'I'm writing this.'"
The Weeknd also revealed to Zane Lowe how he didn't think this song had the potential of being a single. "I thought it was me just being Starboy," he said. "It didn't even feel like an album record. It just felt like a dope vibe. So I brought it back to Toronto and I played it for the team. They lost their f–king mind. [I played it] through a voice note because I didn't have the – I don't like sending any records so I had it on a voice note [laughs]. I played it on the speakers and everybody was like, 'Yeah, this is the next single.'"
The Weeknd mentions some of his cars in this song. Among them:

"P1 cleaner than your church shoes" – a McLaren P1

"All red Lamb just to tease you" – a Lamborghini

"Pull off in that Roadster SV" – another Lamborghini, this one a Aventador Superveloce Roadster

It's safe to say The Weeknd is a car guy.
This song stands in stark contrast to the Bruno Mars hit "24K Magic," which came out around the same time. While Mars invites us to the party ("I just want to take you higher"), The Weeknd takes a more spiteful approach ("I'm tryna put you in the worst mood").