Tim Watson has been making a name for himself within the Durham Region music scene. He is often being praised and remembered for his wide, soaring vocal range and his diverse musical talents. Watson possesses that rare ability to always connect with the audience through his sincere and emotional performances. It is clear with him that there are no false pretenses. In music today, auto-tune and samples dominate, but Watson and his band have a sound that is authentic and genuine.
Back in May, Watson sat down with Music Vice writer, Laura Antonelli, to discuss his first self-titled solo EP that is currently available on iTunes Canada. They talked about the difference between being the lead singer of rock band versus an acoustic singer/songwriter, the surprisingly vibrant music scene within the Durham area, and how his latest batch of songs represents him best.
You were in the process of recording an EP with your rock band, Women and Children, but you decided to stop that and instead recorded your solo acoustic EP. Why did you decide to do your acoustic EP first?
Well, stopping Women and Children wasn't because I wanted to do my own thing. It's just something that came from it. I always knew at some point I wanted to record my acoustic stuff. I thought I would do a few songs and put it up digitally for people to download online. The more I got into it, the more I wanted to do it right and get it packaged. I originally thought I would do it with literally just one mic in the room, sing, play, and call that an EP. I just really got into it. Billy [Blasko], who I recorded with, was completely on board. He encouraged me to go for it and actually do the real deal instead of just a little online thing.
Why did you choose to get Billy Blasko to produce the EP? How did that happen and what was your experience like with him?
I chose Billy because I knew that what I was going for was something that I wanted to sound natural. I didn't want it to sound produced. I listened to primarily the record that he did with Trish Robb. I loved the sound of it, especially vocally. Billy is a great, great singer himself and I knew that my EP was going to be vocal dominated, so I wanted someone who knew how to record vocals and knew how to get natural, organic sounds. I didn't want any cut and pasting. We did a little bit of it obviously with the harmonies dubbing over, but for the most part, all of the melodies are one take. I would sing the song five times in a row and then we'd take the best full take rather than splicing it up. So you can hear all the breathing and it's very "in the room," which is how I wanted it to sound.
I noticed that from your rock music to your acoustic music, there's a huge difference in your vocal performance. There's no screaming in your acoustic stuff and a lot more falsetto. Was that a conscious decision? Why did you decide to sing like that?
Well, I think naturally when I'm just singing alone in my room, that's how I sing. Both styles are great and they're both physically good for my voice. Singing the heavier stuff was a different kind of singing. I still feel like it's me, but it's almost like changing character and creating a different sound with your voice. I've always been into that. When I was younger, I would listen to Michael Jackson and try to copy the way he sang. I'd listen to someone totally different and then try to copy the way that person sang. As childish as it was, I feel like now I'm able to adapt my voice depending on the situation. I wanted to do something where you could hear all the little nuances, less of a volume, and more of just hearing all the details. That's the main thing. I didn't want it to be like I'm just punching out all the notes. There are times when I do belt on this too and then there are times where I'm docile.
In terms of the falsetto thing, I've just always been into falsetto singers. I've always listened to them. I think when I was recording the EP and when I wrote most of the songs, I was listening to a lot of Joni Mitchell, who does a lot of female falsetto. She just kind of does whatever she wants with her voice, range-wise, and does things that I love and that I wanted to do.
Which do you prefer: being the lead singer of a rock band or being the singer/songwriter?
They're both fun. I'd say right now because I'm mostly doing this I'd have to go with the acoustic side of things. Maybe a couple months from now I'll want to jump back into the rock stuff, but right now this style just feels natural for me. I feel very at home doing it. I always enjoy any kind of singing. I've sang opera stuff too, believe it or not [laughs]. That's not my thing, but it's interesting for me. I just like trying different ways of singing. It doesn't matter. I'm flexible in terms of the genre.
Do you find that in the Durham music scene, there's more room for acoustic stuff here than rock music, and does that have any effect on what you do musically?
It doesn't have any effect on what I do musically. I think that you are right, it is primarily folk/acoustic dominated. I think that's actually caused by the venues. There are not a lot of big rock venues to play around here. You can put a rock band in the [Thirsty] Monk, but it's like you're blasting your Mom's dinner hall. I've always been a believer that you do have to play to the room a little bit and there's just not that venue right now. I mean, hopefully there will be soon with the whole Moustache Club [a new music venue that recently opened in downtown Oshawa], but there are just not a lot of places and gigs out here in the Durham area. There are obviously lots of gigs if you go to Toronto. I never thought that I wanted to do this because it's more in right now with our scene, though.
The EP is primarily acoustic besides Marcel [Rousseau] playing banjo/steel guitar and Andrew [Ivens] playing keys, but you did form a band for your live shows. How and why did you choose who's in your band?   
When I began recording this EP, I knew that there weren't going to be a lot of people on it; that it was going to be pretty bare bones for the most part. I knew that I wanted keys and some Rhodes piano. I also knew that I wanted some lap steel and I love the way Marcel plays the telecaster with my songs…I then showed the songs to Jordan [Rousseau] who's just been a good friend of mine and is an awesome drummer. He's someone I've known since I was 12. It just worked out that all of us were on board playing this kind of music. They were excited about it because I think they like the songs. I hope they do [laughs]. I know I was excited because as soon as we started playing as a full band, I was like, "Wow." I never pictured my songs in that setting but as soon as we started, it filled out everything the way I wanted. It's not too much and everyone is being tasteful with what they do and how their parts work within the songs.
The only tough part at first was finding a bass player. I've always kept in touch with Scott [Brachmayer] for a long time, but he's been busy doing film stuff in Toronto. He was in my band when I was in high school. I just asked. Scott's open minded. He plays in another band in Toronto called The Bright Skies. He was just on board. It was important for me that we gelled as friends as much as, "Okay, this guy can play the bass." I actually rather it feel good with the company in the room as opposed to someone just playing their part and we don't know them that well. So the timing of everything just worked out. The Women and Children thing was on hold for a bit…and those were the first people that popped into my head.
"Brother" was the first song that you released for free from the EP. Tell me about this tune. It was originally called "Telling Truths." Why did you change the title?
Hmmm. Why did I change the title? I changed the title mainly because that song for me is probably my favourite on the whole EP. That and "Halo" are probably my two favourites. And the reason that –
Why are they your favourites?
I would say I'm definitely still young. I'm like a young guppy in this whole singer/songwriter thing…If someone was like, "Give me one or two songs that summarize what you do," those would be the ones.
So with "Brother," I didn't change the title until we started recording it. The chorus makes me feel a little bit left of center, a little bit on edge, and a little bit unsettled. I just thought that word stuck out more and I like when you hear a song and you're left wondering. I like the mystery involved in it. I felt like Telling Truths was a little too like, "Bang! Here it is." I thought "Brother" suited the feeling of the song a little more.
What inspired the song?
Yeah, it's actually not about my brother. I warned him about that right away being like, "Hey man, I don't want you to think this is about you" [laughs]. It's not about my brother. It's funny but a lot of my songs start off this way. I obviously have some personal connection to it and some people or characters in my mind. They generally transform into a broader concept. I remember when I was in fourth year of university studying music, I felt like all my friends were quickly growing up. They were getting married and having children. I was like, "Whoa! What's going on?" I was super excited for them and supportive, but it also scared me a little bit. I just started looking at adults or people in my life that had been through all that – been married, had kids, and had just been growing up. I wondered if they still do all the things that they intended and wanted to do, and that they love to do. So the chorus being like, "Keep singing all the words you loved," it was more of like, "I hope that all these people that I care about keep doing all the things that they want to do." Don't let the growing up take over your life.
I like that. So "Run" was originally a Women and Children song but it's on this EP. Why did it end up on there?
Well, with that song in particular, I wrote it with Marcel. We were going through a phase as a band where Marcel and I thought we would do a lot of the writing just with each other, and then bring it to the band. It was originally an acoustic song but because of the sound of our band, we made it electric. I always preformed it acoustically even on my own and with Marcel, so the version that is on the EP is actually the first version that we wrote. We kind of just did a louder version for Women and Children. They're actually quite similar. The only things that are missing are drums and bass on the acoustic EP, and that's just because I didn't put any of them on the whole CD.
Can you tell me about "Halo"? I think it's written about Jeff Buckley for some reason. The first few lyrics just remind me of him.
You're actually very, very close. It's not written about him specifically. It's more of an ode to all the people that inspire me, with him probably being at the forefront of all of it. Jeff Buckley is always someone that I wish had more albums, so there was more material to listen to by him…You know when you hear your favourite singers, artists, or bands? Sometimes I hear them and I just want to go crumble somewhere else because they're so good [laughs]. Every time I hear those records, it's just so humbling. I basically wrote that song with those people in mind, him being one of them for sure. It's kind of like I'm saying, "Hey, look what you've done for me. I love this music and this is my song about that" [laughs].
[Laughs] "Hannah" was never really a song that I liked live, but I love the recoded version of it. Tell me about this tune and the evolution of it.
It's funny. That is the song that naturally felt comfortable. It was probably the first song with the band that we were all like, "This is going to be kind of our sound." It's definitely top three for me.
It's my second favourite song on the EP.
Oh, cool. It's the oldest one out of all of them. I wrote some of the vocals and primarily the words when I was 19, so a long time ago. I don't even know anyone named Hannah. I grew up in Haliburton a lot, so I would spend my summers there when I wasn't in school. In Haliburton, there are a lot of rich people and retirement people or it's this polar opposite. There's not much of a middle ground. I remember being downtown Hailburton just walking around while my parents were shopping. Downtown Haliburton is literally a block, so there wasn't far to go. I saw this guy. He looked like he may have been drunk. He was just out of it and swearing at this wishing well. So I saw this man and I kind of just made up a story about him, with Hannah being his daughter. It's like when you're in high school and they're like, "Go on the bus, look at someone, and write a fictional story about them." That's kind of what I did. I just had this little story in my head [laughs]. It's a sad story. It's about this father losing his daughter because he succumbed to alcoholism and just that darker side of life. He wants her back, but he's kind of gone too far. That guy that I saw could be the happiest guy in the world [laughs], but I just decided to make that story up about him because he seemed quite upset that day [laughs].
That's totally different than what I thought it was about.   
Yeah, I know. Everyone always asks me, "Did you date a Hannah?" I'm like, "Nope! I don't even know one." I just thought it was a daughterly sounding name, so I used it [laughs].
[Laughs] What's the story of "Middle Man," your most upbeat song on the EP?
Yeah, definitely, especially when we play it with the band, it's even more upbeat. I had a lot of these songs for at least a couple of years before we recorded them and that was one. It's one of the few songs that I actually wrote about me and the things I was going through. I felt torn at the time between what these people wanted me to do and what you feel you want to do, but not being sure exactly what I even wanted to do. The song derived from a bit of that confusion. Just trying to focus on the things that I love the most rather than what people think you should do or what they want for you. It sounds like I'm talking about someone else, but it's kind of me talking about me. Like I said earlier, I'll start a verse that's about me or a character, but by the end of the song it's turned into this broad concept. That's just naturally the way it happens for me. I don't plan on it, but I usually think broad. By the end of that song, I'm writing about other people I know that were going through similar things.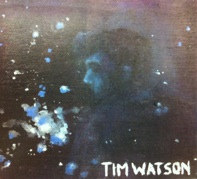 I was trying to find a theme to the EP but –
Yeah, there's not really a – I mean, I think there's a theme in the sound of it. Lyrically, no, it's a collection of songs…It's funny to me even just looking at the artwork right now, though. I think musically there is an overwhelming vibe and feel between all of the songs, even though a couple of them are quite different. Just going back to why I started doing this whole thing, it feels very me even when I look at the cover…When I got Justin Rousseau to do the artwork, I kind of described vaguely what I wanted because I'm not a visual artist. I think he heard the songs and got the exact same feelings. The whole thing to me feels like it is floating and I want it to be that way. I like records that when you finish them, it's not like, "Bam! That was a good country record." It leaves you thinking a little bit both sonically and lyrically. I want it to feel a little bit unsettled, especially musically. That's what I'm going for in a lot of these songs. Because I know that's just what I enjoy the most about music. I don't mean unsettled in feeling bad. I just like there to be a bit of mystery.
I find with the local music scene that there's this camaraderie among all the musicians. You all play with each other and seem like you're friends. You're playing with Patrick Dorie now and also with a new band, The Coachlites. Tell me about these side projects.
Well, it hasn't been that long with Patrick, maybe six or seven months. I've always loved his music. He's come and supported me and I've come and supported him just like you're talking about with the whole community. He just told me that he hears a lot of trumpet in his songs. If you listen to his records they're filled with a lot of trumpets and strings, so naturally he was like, "Who do I know that plays trumpet? And sings back up?" I'm getting into this whole solo thing now, but I've always loved playing the role of backup singer and just adding into what's already good. He had a great thing already going on and I think he just heard the little pieces that he wanted. I mean, because we hang out all the time, he was like, "Hey, try to play trumpet over this?" Then he was like, "Do you want to play a show?" So, I played with him in Hamilton. I play with him now any time he has a full band.
The Coachlites is kind of a solo project for Matt [Holtby]. He's written all the songs, but he's put them together with this group of guys. The same deal with that one. I play some violin and trumpet. I do a lot of singing in Matt's band, though. We're pretty much singing together in constant harmony the whole time, which is great. I love singing harmonies. I feel like sometimes I enjoy that even more than singing the melody. I just love chiming in and helping people out.
Who are your favourite local musicians?      
Favourite local musicians? I can't do it without naming everyone [laughs]. I was shocked about the Durham scene and I think a lot of people are surprised when they come here…You would think going from Toronto to Durham just based on the size of the cities that it would musically be a letdown. There's a smaller pocket, but I would say in a lot of cases, not all cases, but in a lot of cases, there's a higher level of people that care about their craft. It's not just about, "I want to play to my buddies." They sit and dwell with their songs and they want them to be good. You can tell immediately when you go see someone like Trish [Robb], Patrick [Dorie], or Dan [Brooks]. Sometimes you go see people play in a rowdy bar, there's music in the background and it sounds good. When you watch these people, you can tell that they just care a great deal about what they're putting out there. That's my biggest thing. Just being genuine and being like, "This is what I want to do and I want to do a good job of it." I can tell that we're all similar in that sense and that we put high expectations on ourselves. I know for me, I live with my music and just with music in general. I don't really do anything else. If I've played a show and I don't feel like I put my best out there, it bugs me. So I want to always feel fulfilled after playing. I think these other musicians all feel the same way, and you can tell that when they play, too.
Future plans?
Full album with the band. There are five songs on this EP…and I've written three in the last few months. I went on a little break right after the EP was done because I think I was sick of hearing the songs in the studio over and over again. I wrote two new tunes, though. One I wrote totally on my own and once again brought it to the band. The other one I just wrote with the band together. I think once I get nine or ten songs over the summer, I'll fill that gap. Then in the fall I'll do a full band recording. It'll sound similar to the EP. I love the sound of this band live. It's all that I've wanted the last couple of years. I just want to capture that on an album. So a lot of it will be live off the floor, just overdub the odd vocal, guitar track, and that's probably about it.
With Billy again?
I would love to get Billy involved, but he's a busy guy and not around here as much anymore. I haven't even thought of that yet. I have some people and places in mind. We might go into Toronto and do it or if I can get Billy to go up to a cottage to record it. See, I'm all about the space and the setting rather than, "Let's go into a million dollar studio and then be pissed off" [laughs]. I would rather just escape to a cottage for a weekend and see if we can track everything. That would be awesome.
So you would include the songs from your EP on it as well?
Yeah, just with the full band. We might change some things. I would make it so people weren't like, "Oh, I've heard this already." I would change it up. I mean, a couple of the songs I love the way they sound without the band. "Hannah" and "Middle Man" in particular are tunes that I want to re-record now that I've been playing them live with the full band, though.
And "Halo," you changed it up live too.
Yeah, that was actually all Marcel's mapping out. He heard that song and was like, "Let's do this with it," so I give him all the credit for it. You can also give Marcel a lot of the credit, he'd probably hate me saying this, but he did a lot of the organizing of the band. I had the songs and I knew how I wanted to sing them. I think he just got how I wanted to sound. He kind of in a way was the orchestrator behind how the band actually sounds. We all pitch in and it's pretty collective now, but he had great ideas. What's so good about working with him is that there are no misconceptions. We totally understand exactly what we're going for and we both just get each other without even having to say it. We both can kind of read how we want things to sound and it just works that we both line up. I think it helps around the time of recording this EP and putting the band together, we were both into a lot of the same music. So we were listening and inspired by similar things.
Last question. This interview is for Music Vice so, besides music, what are your other vices? 
I'm going to be boring with this one [laughs]. Besides music?…I've always loved reading. I did a minor in literature in my undergrad. I had a professor that introduced me to some amazing authors that just rock me when I read them. I wish I had more time to just read for fun, but in the summers when I'm totally off, I tend to play music, read a lot, and just be active by playing some sports [laughs].